"Cornered now!"
This article is a stub. Please contribute, add and expand to the page if you have any additional details or information on the topic.
The name Insane Pig is not official and is only named as such to distinguish this special variant of a pig from others.
The Insane Pig is the main antagonist of the Potions - AVM Shorts Episode 4. Pig starts out as a normal pig, spawned by Red, and he then finds Blue, who is asleep after making tons of potions. Pig then drinks a ton of them and gets many potion effects that give him great strength, speed, and fighting skills. Pig begins to unstably run and shake, breaking every block in his path as he runs. Blue and Red try to stop him from moving, but he runs through them.
All the stick figures drink potions but none were able to defeat him.
Luckily, the potions run out while he is in the air, and the fall kills him.
Trivia
The pig is the first character that is neither a stick figure nor a program to have fighting skills.
The pig is the first pet that Red (tries to) have.
The pig gives off pink particles when under potion effect no matter what potion effects it has.
It is unclear why the pig would attack the stick figures, as they are not normally hostile mobs.

It's likely that it was annoyed by the stick figures trying to stop it's rampage.

This pig is the first passive mob antagonist in the series.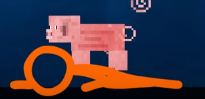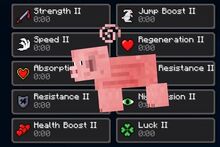 Community content is available under
CC-BY-SA
unless otherwise noted.