Adobe Photoshop is a raster image-editing software app developed by Adobe Systems, released as one of Adobe's very first apps along with Illustrator, Premiere Pro and After Effects. Since the animating software seen in the video is still Flash 8, it's quite clear Alan Becker (noogai3) bought the two separately.
In real life, Alan uses it to edit pictures, create digital paintings and even animate on it. there are three tutorial videos on Photoshop in one of Alan Becker's channels, AlanBeckerTutorials.
Role
Animator vs. Animation 2
In Animator vs. Animation 2, it was hit by the ball of Game Maker. This causes its eye to flare up, and in a fit of rage, it attacks The Chosen One by shooting a laser out of its eye towards him. As a counter attack, The Chosen One also uses his laser, which he forces aggressively back at Adobe Photoshop, ultimately leading in its defeat.
AVM Shorts
In The Rediscovery, Adobe Photoshop is seen once again in the taskbar, although it didn't do anything.
Powers/Abilities
Adobe Photoshop can shoot lasers from its eye, similar to The Chosen One.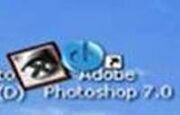 Trivia
When the Chosen One reaches the start menu, the defeated Adobe Photoshop icon appears in recent programs. It is in the same state as the one on the desktop.
Adobe Photoshop only appeared as an enemy in Animator vs. Animation 2 as 7.0 but it was also upgraded to Adobe Photoshop CS4 along with Flash, Dreamweaver, Fireworks, etc., then finally Adobe Photoshop CC in the first AVM short.
Although the text says the version of Adobe Photoshop is 7.0, it has the icon of Photoshop versions 4.0 to 6.0.
Community content is available under
CC-BY-SA
unless otherwise noted.